A LIFE-SAVING defibrillator has been installed at Parc Ceirw Garden Village in Morriston.
It's currently located outside the Edenstone Group sales centre in a locked cabinet and can be accessed using a code obtained by calling 999.
The defibrillator has been provided by the Edenstone Group, which includes Bluebell Homes and Edenstone Homes, as part of the company's commitment to the local community.
Defibrillators deliver a high energy electric shock to the heart of someone who is in cardiac arrest. They can play an essential part in trying to save the life of someone who's in cardiac arrest and needs to be found as quickly as possible. For every minute it takes for the defibrillator to reach someone and deliver a shock, their chances of survival lower.
Edenstone operations director Chris Edge explained: "Parc Ceirw Village has grown rapidly since we released the first homes for sale in 2019. More than a 100 homes are now occupied and as a responsible homebuilder we want to help ensure the new community has access to these life saving devices near to their homes. A defibrillator is a potentially life-saving piece of kit, which can be crucial in the event of an emergency. The device gives instructions, checks the heart rhythm of the casualty and will advise if a shock is needed. It's an amazing piece of kit, with the potential to save lives. While we hope it never has to be used, we were keen to provide one for the new neighbourhood."
Parc Ceirw Garden Village will eventually feature 300 new homes alongside a host of facilities to enable residents to enjoy a healthier way of living including an equipped, circular outdoor fitness trail and a gym within a community hub.
In time, the defibrillator will be moved from the sales centre to the community hub, which will be a focal point within the community park at the centre of the new neighbourhood.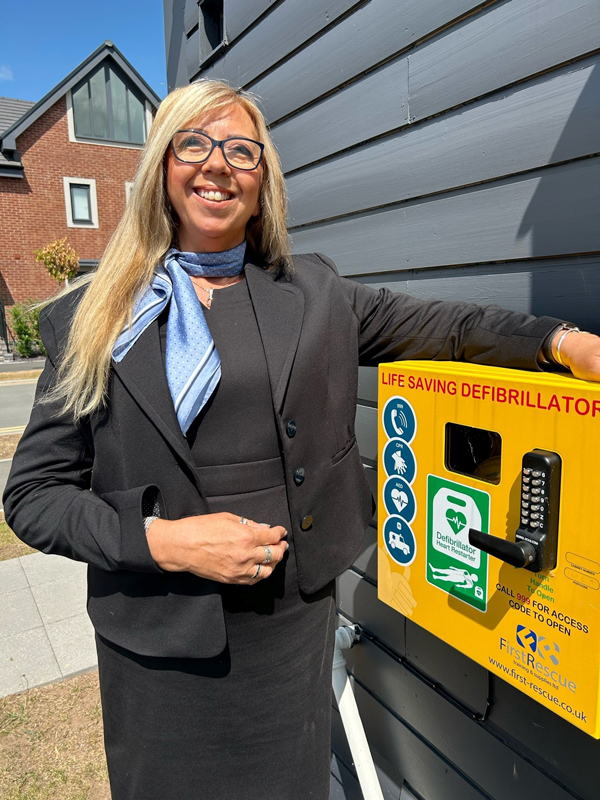 Edenstone has previously gifted a defibrillator to the Leon Heart Fund for use in the community in the Swansea area. Another has been installed at Lisvane Community Hall, near to the Beaufort Park and Beaufort Gardens developments. Two have been provided in Ross on Wye – one at St Mary's Garden Village and another outside the local sports centre; while in Gloucestershire, defibrillators have been provided at River View Garden Village in Lydney and Trinity Quarter in Brockworth.
The sales office and show homes at Parc Ceirw Garden Village are open daily from 10.30am to 5pm.
To find out more about Parc Ceirw Garden Village see https://www.bluebellhomes.co.uk/parc-ceirw-1 or https://edenstonehomes.com/parc-ceirw.