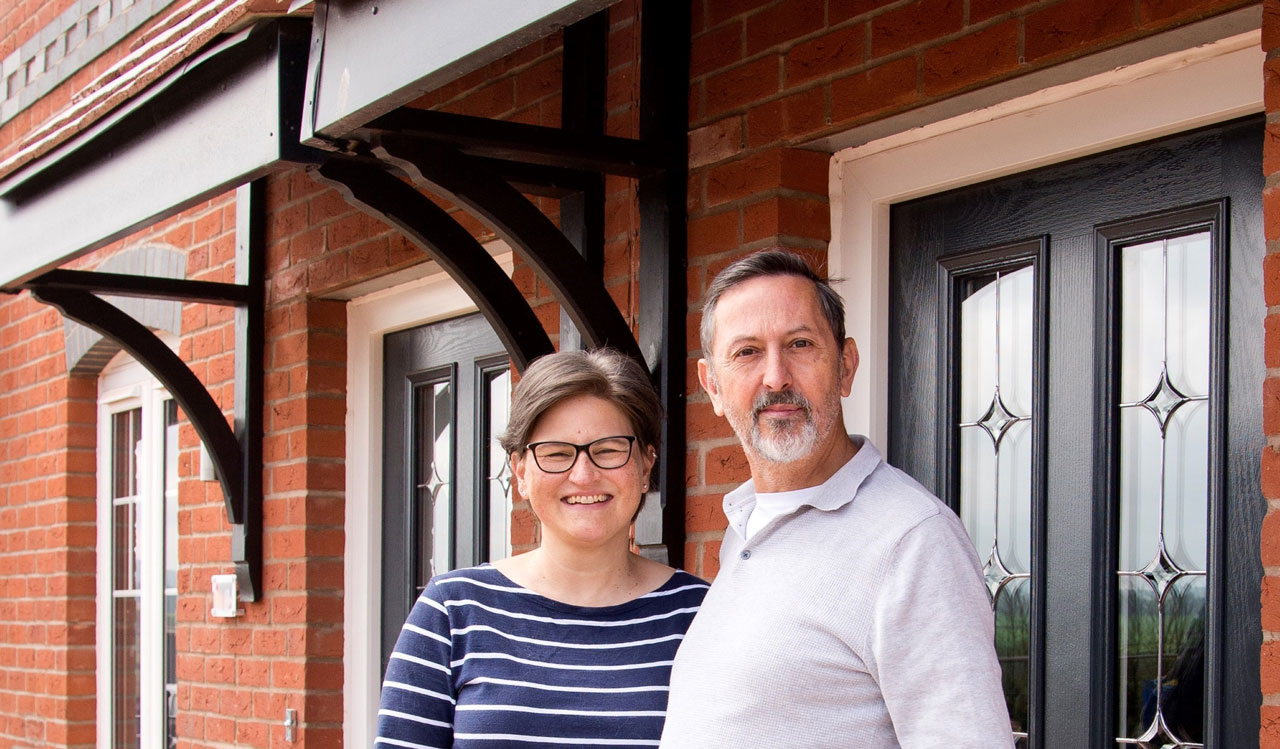 RELOCATING from Switzerland to Ross on Wye was a smooth move for Ian Paterson and Laura Paterson-Groen thanks to the support of the friendly and competent Edenstone Group team.
The couple completed much of their homebuying journey via video calls and are now settled in a new home in Ross on Wye where they're embedding themselves in the new community at St Mary's Garden Village.
Ian and Laura first met in Switzerland in 2010, moved to Cirencester together in 2012 and then to the Isle of Wight before moving back to Switzerland.
"After 18 months we decided the UK was our home. We'd looked at returning to the Isle of Wight but because of the booming housing market the fact that we couldn't go and look at properties was an issue. I was working on a project in Switzerland and Laura couldn't just fly to the UK to look at properties," Ian recalled.
With family and friends in the Bristol and Cirencester areas they expanded their search and came across St Mary's Garden Village by the Edenstone Group.
"We were taken by the size of the development and where it was. We knew the area because we'd lived in Cirencester before."
They said that the sales team were so positive and supportive that it made their decision "a no brainer".
Having initially contacted the sales team via email, their buying journey was largely managed via video calls.
"There was no other way we could have done it. We'd spoken to traditional estate agents and other developers but found them reluctant to deal with us unless we turned up in person, plus if they received a better offer, that was it," Ian explained.

"We were struck by the honesty and integrity of the company because once we'd paid the reservation fee, they wouldn't take bids from anyone else. We can't believe how smoothly it went."

Laura added: "When we had a question, the responsiveness of Julie and Megs meant that we'd always get a direct answer. If they had to clarify something they'd come back to us within a day. Even though they had a lot of other customers they made us feel like we were the only ones. It was brilliant."
The couple visited the development just four times before moving in – initially to look around the area as well as meet the team in person and see the site, then when their home was at slab level, again to select their options and when it was built.
"We came into make our choices because we wanted to feel the materials. In the main we chose the standard options as there was plenty of choice. When we couldn't make our minds up the sales team were great at helping us decide what worked well together, I was so pleased, they have a great eye for interior design" Laura said.
"The people who work for Edenstone are fantastic – they're supportive and really care. They have sent us pictures of every significant step during the build and have come to ask if everything's okay. It helps you feel part of the Edenstone and Bluebell community."

Ian added: "Because it's still a live construction site there are builders everywhere and they say hello and are chatty, which helps make you feel at home. They do everything in their power to keep the roads clean."
The couple, who moved with their three Maine Coon cats Nebraska, Pepper, and Maximilian, describe their new two-bedroom end of terrace home as "cosy and homely" with a big garden – the cats are in heaven!
Their flat in Switzerland was a third bigger than their new home so the loft now stores some of their cherished belongings. They've also created a crafting space in a shed in the garden and are enjoying exploring their new surroundings.
Ian said: "Having things like the gardens, walking trail and community hub with gym was an important selling point."

Laura added: "It's really nice to have things like ponds on the doorstep as it means we don't have to take the car to go for a walk. There's a brilliant cinema nearby at Labels and the first big shop is about a 15-minute walk away or we can wander into the town centre in around 25 minutes."
St Mary's Garden Village is a vibrant new neighbourhood offering a range of community facilities including play area, wetlands, allotments, formal garden, with a community hub with bike hire and gym opening soon.
It will eventually feature 348 homes, including two, three and four-bedroom family properties and bungalows from the Edenstone Group's two housing brands, Edenstone Homes and Bluebell Homes.
For the latest availability and pricing see www.edenstonehomes.com/st-marys-garden-village, or www.bluebellhomes.co.uk/stmarys.