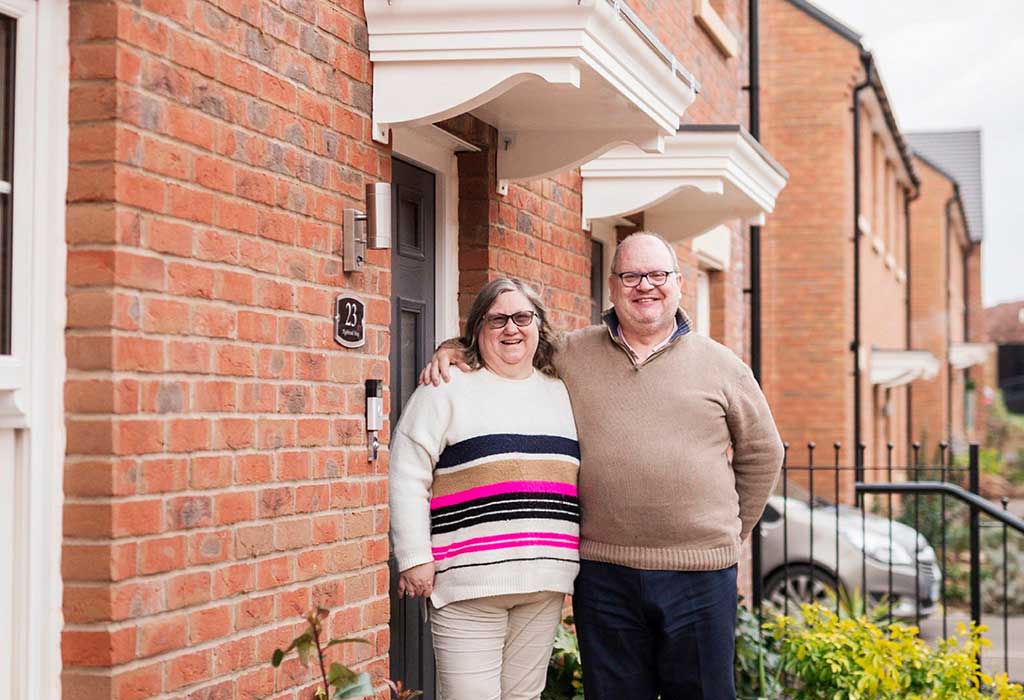 COUPLE LOVE LIVING IN A NEW HOME IN LYDNEY
DOWNSIZERS Stella Jennison and Adrian Juggins are enjoying a new lease of life as part of a new community in Lydney.
From ease of maintenance to community spirit, neighbourhood facilities and somewhere to walk their dogs, the couple have found that their new home at River View Garden Village offers everything they were looking for – and more.
"We lived just across the bridge in Thornbury – I had been there 30 years or more. My husband and I got together in the last 10 years and wanted a house that was both of ours," Stella recalled.

"For our wedding anniversary unexpectedly he booked us a table at The Globe Inn in nearby Alvington and I remembered my dad used to drive around here for his job. It's such a beautiful area that when I got home from the meal I searched for homes for sale in the area and River View Garden Village came up. We came for a look and fell in love with the place."
River View is being developed by the Edenstone Group, featuring properties from the company's two housing brands – Edenstone Homes and Bluebell Homes, along with a host of community facilities.
The couple, Stella, 56, and Adrian, 57, originally looked at buying a home on the Edenstone phase and Stella said she was "devastated" when mortgage availability meant that wasn't possible.
They went on to buy on the Bluebell phase through shared ownership.
"Everything fell into place. It was meant to be," Stella added.

"We sold our old three-bedroom semi-detached home and used the proceeds from that to buy part of the property outright, without a mortgage, and so all we are paying is the rent element on the remaining share."
They reserved their home before Christmas 2019 and had been due to move in at the end of March, but this was delayed until June after Coronavirus restrictions temporarily stopped construction.
"The kitchen had already been chosen when we reserved but it was the colour I wanted anyway. We were able to choose the flooring and the bathroom tiles. It's worked out perfectly in the end and we have a really lovely home without having to worry about maintenance," said Stella, who retired from her role as a teaching assistant on health grounds.

"The convenience of a new build was a big factor in our decision to move. My husband is brilliant at tuning pianos but DIY isn't his thing," Stella laughed.
The couple have two dogs – Archie and Mabel.
"We are so close to the woodland, which is lovely for dog walking. Archie and Mabel are in heaven living here," Stella said.
Featuring a play area, cycle hire and allotments, River View was shortlisted in the community initiative category of the Housebuilder Awards, organised by Housebuilder magazine, the Home Builders Federation (HBF) and in partnership with NHBC.
"There's a real community spirit at River View – I've never lived anywhere like it. Even having to socially distance, it's still lovely. Everyone put things out Halloween and then we've had a Christmas trail. It's fabulous," Stella added.

"The grandchildren have used the play area – the first thing they do when they get here is ask if they can go to the park. My daughter lived on a new estate and the play area there was one of the last things the developer did so it's good to have it already in place."
River View will eventually feature 177 new homes across all phases, with a range of buying options available including shared ownership, which enables people to part-own, part-rent their new home and, over time, to progress to ownership in full if they wish.