GET THE HANG OF PICTURE HANGING
TIRED of looking at the same four walls? Refresh your home's interior with wall art.
From favourite family photos to classic prints or arty abstracts, wall art can offer a simple and cost effective way of giving your home a new look, whether you're a mover or home improver.
A brand new home offers a blank canvas and pictures are the perfect way of putting your own stamp on it, adding personality and style, before you decorate.
It's also a way of refreshing your surroundings without the expense or the hard work of painting or wallpapering.
Here are our tips to help you get the hang of picture hanging.
Flowing theme
Create a sense of flow and unify rooms by following a theme with your art work. For example, in the show home at Parc Ceirw Garden Village in Morriston the colours and woodland theme from the mural feature wall are complemented by the canvas prints on the adjoining wall. Reflecting the green and pleasant surroundings, the master bedroom and en-suite in this home feature leafy prints.
In focus
Wall art can help draw the eye and provide a focal point to your room. Pictures hung above a fireplace help make a feature of the fire all year round. Pictures can also help break up otherwise tall walls in rooms or on landings.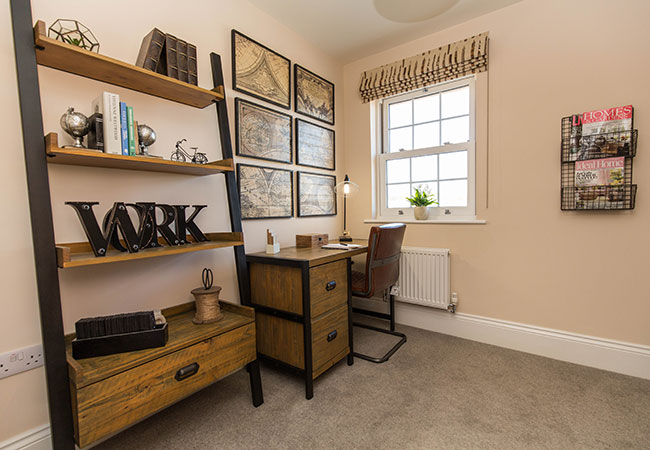 Safety in numbers
Group pictures together to make a statement. This could be a collection acquired over time or sourced from new. Create a dynamic effect with an odd number of pictures grouped symmetrically and evenly spaced in a row or asymmetrically with a large frame between two smaller ones. Mix sizes, shapes, frames and colours for an eclectic look. For a more uniform look, display an even number of pictures arranged geometrically in a square rectangle. Create cohesion between different pieces of art by using similar frames. You could even paint the frames yourself if you're feeling crafty.
On the level
Precision is key to hanging pictures. Don't worry if you don't have a spirit level of tape measure – there are plenty of apps available to help ensure you pictures hang straight and not crooked.
Step up to the challenge
Make the most of the wall space along your staircase with an inclining picture gallery. We've used three framed pictures in the show home at The Woodlands, Dinas Powys, but you could use a much larger number of family photos or pieces of artwork to fill the space in a variety of configurations.
Make space for mirrors
Strategically placed mirrors can help emphasise the sense of space. Pair statement mirrors with mirrored furniture to bounce light around a room, like in the Carcroft show home at River View Garden Village in Lydney.
Old pictures new look
Give much-loved pictures some TLC by reframing and perhaps repositioning them either in a different room or new configuration. Found an old family album while having a clear out? Frame and display the photos of your loved ones or favourite places to spark happy memories.
Collection curation
Want to start a new collection of artwork but unsure of where to start or what would work together? Find inspiration from the internet and interior specialists. Many retailers offer posters and prints in collections so that you can create a gallery wall with ease.
In the frame
A shadow box frame or shelf offers a way to display collectibles and accessories, providing a stylish storage solution.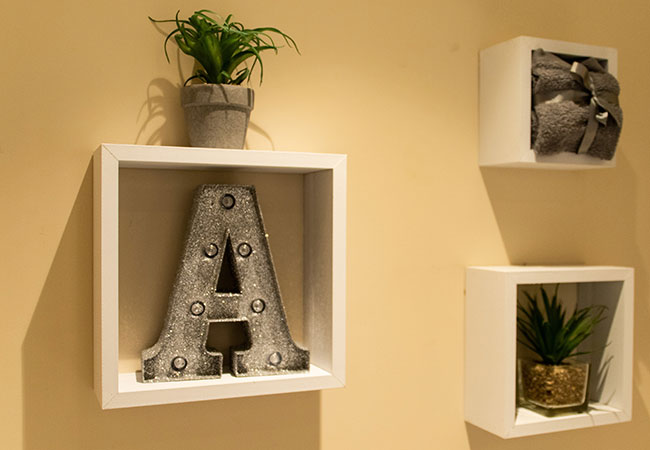 Part of the furniture
Pictures don't have to be hung from the walls. They can also be displayed on shelves or furniture to complement the furnishings in your home.