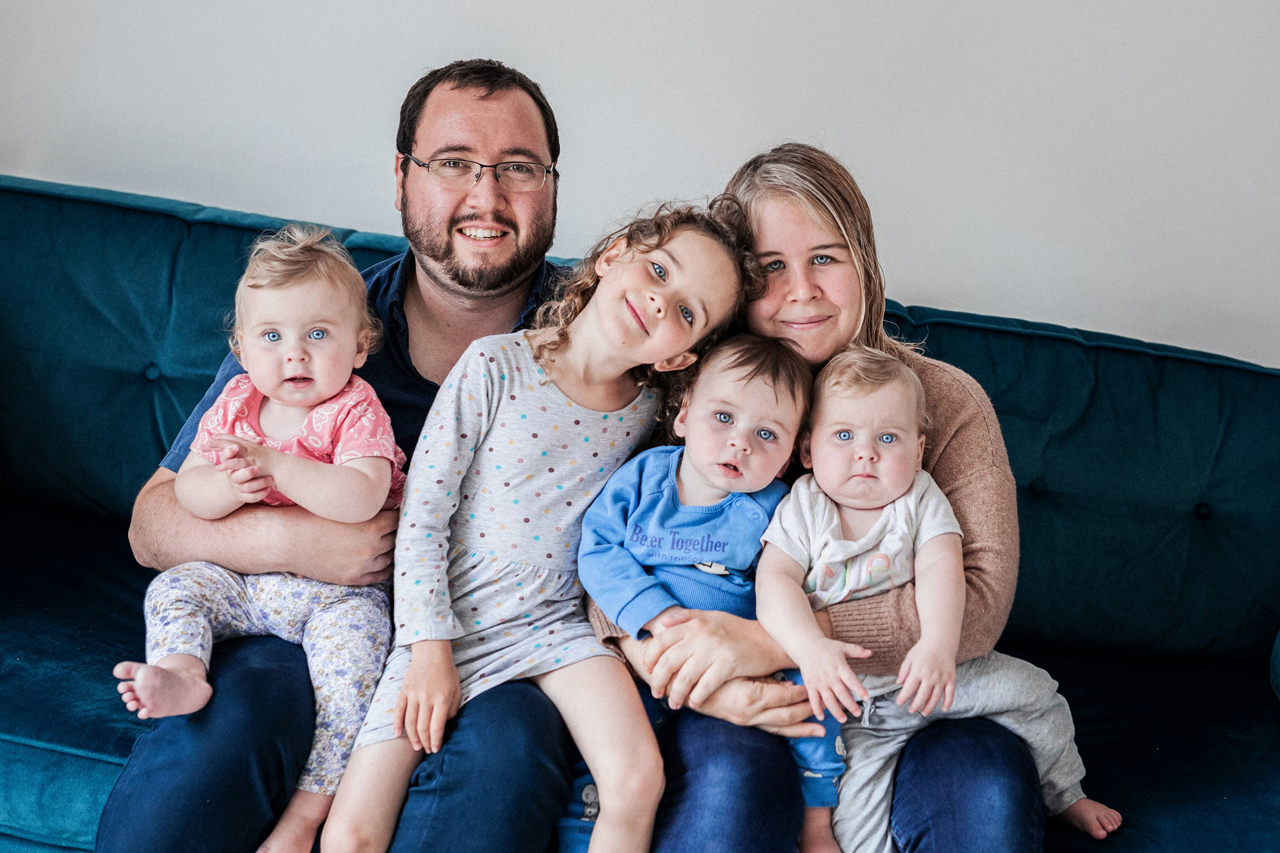 WITH a young child already, Katie and Owen Furnell had always looked forward to moving from their one-bedroom flat into a larger family home.
And when they discovered Katie was pregnant with triplets, they found the perfect one from Bluebell Homes at St Mary's Garden Village in Ross On Wye.
The couple recently moved into a four-bedroom semi-detached Tadlow property.
Katie says: "We always had the idea we would buy a family home eventually and when we find out I was pregnant, we thought we might be able to make the town centre flat work for a year. But that was when we thought there was just one more baby!

"When we found out it was triplets, we realised we needed to find something bigger quickly, and we knew we wanted to live at St Mary's Village.

"Quite a few of our friends already live there and told us it was such a nice place to be."
Katie says that when they saw the three-storey semi-detached Tadlow, they knew that was the home for them. 
Set across three spacious floors, the Tadlow townhouse affords flexible living. On the ground floor is a kitchen and dining area, a lounge that extends the full width of the property and opens out onto the rear garden, plus a cloakroom.
On the first floor are three good-sized bedrooms, two of them double, and a family bathroom; and on the upper floor is the main bedroom, with an en-suite bathroom and a dressing area/home-working space.
"We loved the attic room because it was a little bit quirky," says Katie, 31, a former chef. "We have the top floor bedroom with the en-suite which is a bit of a retreat for us. We hadn't had a bedroom for about four years as we let our daughter, Lilliana, have the bedroom in the flat and we moved our bed into the lounge.

"The first floor is the kids' floor and it doesn't matter how messy it gets! Lilly has one of the two bigger bedrooms and we'll let her decide how to decorate it which will hopefully be exciting for her. The triplets, Freya, Primrose and Rowan, who were born in July 2022, have the other one.

"The third smaller bedroom will be kept as a guest room but, as they grow older, Freya and Primrose will share the bigger room, and Rowan will move into that one."
Katie and Owen, a software developer who's also 31, lived with Katie's parents while their new home was built, which helped them save more before they move in.
The young family chose their kitchen style and colour, along with tiles and flooring.
Katie says they opted for a new-build property because neither of them are particularly good at DIY, and because they wanted any spare time to be quality time enjoyed as a family.
Katie explains: "We wanted a brand-new home so we could just move in and live there without having to carry out expensive work constantly.  The energy efficiency of a new home and cheaper bills was another factor – four young children will be costly – and we have already spoken about getting solar panels to future-proof ourselves one day."
Nestled on the outskirts of Ross on Wye, St Mary's Garden Village will eventually feature 348 homes and community facilities including a play area, formal garden, allotments, walking and fitness trails with equipment, community hub with gym, kickabout and cycle-hire.
There's a range of properties from two to four-bedroom styles available from the Edenstone Group's two housing brands – Edenstone Homes and Bluebell Homes –
with prices starting from £250,000.
"It's a lovely place to bring up a family for the location and all the activities it has on site," Katie adds.
Katie who is studying childcare alongside having a young family of her own is considering starting a weekly baby club in the community hall at St Mary's Garden Village.
"There's nothing like that around here and it would be a chance for the parents in the village to get together and meet each other," Katie says. "It's an opportunity to help integrate residents and create a strong community which is what St Mary's Garden Village is all about."
For more information about St Mary's Garden Village and available homes, go to www.edenstonehomes.com/st-marys-garden-village  or www.bluebellhomes.co.uk/stmarys.